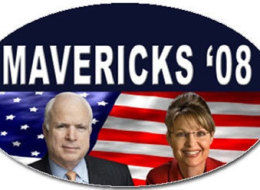 I am seriously doubtful about who would vote for John McCain and Sarah Palin into the top job in United States, possibly the most important job in the entire world...
And just when I was comtemplating for like 2 weeks on how am i going to "condemn" them on Majulah! , i saw this today:
John McCain 'endorsed by al-Qaeda supporters'

Supporters of al-Qaeda have said they would prefer Republican candidate John McCain to win the US election because he is more likely to continue the wars in Iraq and Afghanistan.

 

 

In a message broadcast on the password-protected al-Hesbah site, the group said they would also welcome a pre-election terror attack on the US because that would make a McCain win more likely.

In an endorsement that will not be welcomed by Mr McCain's flagging campaign, the group said that if al-Qaeda wants to exhaust the USmilitarily and economically, the "impetuous" Republican presidential candidate is the better choice.

"This requires presence of an impetuous American leader such as McCain, who pledged to continue the war till the last American soldier," the message said.

"Then, al-Qaeda will have to support McCain in the coming elections so that he continues the failing march of his predecessor, Bush."

"If al-Qaeda carries out a big operation against American interests," it said, "this act will be support of McCain because it will push the Americans deliberately to vote for McCain so that he takes revenge for them against al-Qaeda. Al-Qaeda then will succeed in exhausting America till its last year in it."

Mark Salter, a senior McCain adviser, had no immediate comment.

The message is credited to a frequent and apparently respected contributor named Muhammad Haafid. However, Haafid is not believed to have a direct affiliation with al-Qaeda plans or knowledge of its operations.






























































































































So its kindda... wtf...

What those this show? Even Al Qaeda believes that John McCain is more less the same type of "Enemy" as George W Bush.
John McCain for the past week had been reduced to simply using negative tactics to smear Obama's name, rather than putting up a head to head fight to see who can come up with a grand plan to save America and save the World from further degradation...
Reminiscenes of our own Opposition party of the past which went firebranding into battle against the PAP. Which of course, any "smearing" is dealt with in the most "appropriate" manner. But of course, United States do not have such stuff.... Imagine Obama sueing McCain for compensation for damages of reputation...  = \
The funny thing is that, Sarah Palin, herself, condemned the smear tactic deployed by John McCain; what an Ally he got there.
The best part about Sarah Palin also appeared in the papers today:
Republicans spent more than $150,000 on Sarah Palin's clothes

The Republicans have spent more than $150,000 (£92,000) on clothes and accessories for Sarah Palin and her family since she was chosen as the vice-presidential candidate in August.

 

Questions over the legality of Mrs Palin's wardrobe bill – paid for out of campaign donations – prompted her spokesman yesterday to say that the clothes would not be kept but donated to charity.

According to financial records obtained by Politico.com, a US politics website, the fashion spending spree started in early September.

The spending on so-called "campaign accessories" included bills from the fashion chain Saks Fifth Avenue in St Louis and New York that came to a total of $49,425.

There were also a couple of hefty splurges at another expensive fashion store, Neiman Marcus, in Minneapolis, including one worth more than $75,000.

The Republican National Committee also spent $44,716 on Mrs Palin's hair and make-up in September after reporting no such costs in August.

The rest of the Palin family made do on rather less. Around $295 was spent at Pacifier, an upmarket baby store, and just under $5,000 at Atelier, an expensive men's clothes shop.

The legality of such expenditure was questioned by campaign finance experts who cited the Federal Election Commission's opposition to campaign money being used to buy items for personal use.

Federal campaign finance law prohibits the use of campaign funds for personal use, which it defines as any expense "that would exist irrespective of the candidate's campaign or duties as a federal officeholder".

After initially refusing to discuss the spending, the McCain campaign issued a new statement as criticism mounted.

"With all the important issues facing the country right now, it's remarkable that we're spending time talking about pantsuits and blouses," said a McCain spokesman.

"It was always the intent that the clothing go to a charitable purpose after the campaign."

Tax experts said Mrs Palin will be liable to tax on the clothes, even if she eventually gives them away.

Excessive primping and preening by presidential candidates is fraught with risk. John Edwards was lambasted over his $400 hair cuts in 2007 as was John McCain over his $520 Ferragamo shoes.

In 2006, Hillary Clinton was teased after she spent $3,000 for two sessions at the hairdressers.





























































































































































































I am speechless about the extend of how messed up the Republicans made of themselves and the Presidential Campaign.

God bless America. = P